Say happy birthday with flowers from Polyanthi
Greet your friends and family in Sydney with beautiful birthday flowers from Polyanthi. Our talented team of florists will create stunning floral arrangements guaranteed to brighten their day. We offer a wide variety of flowers to choose from, so you're sure to find the perfect blooms for your loved ones.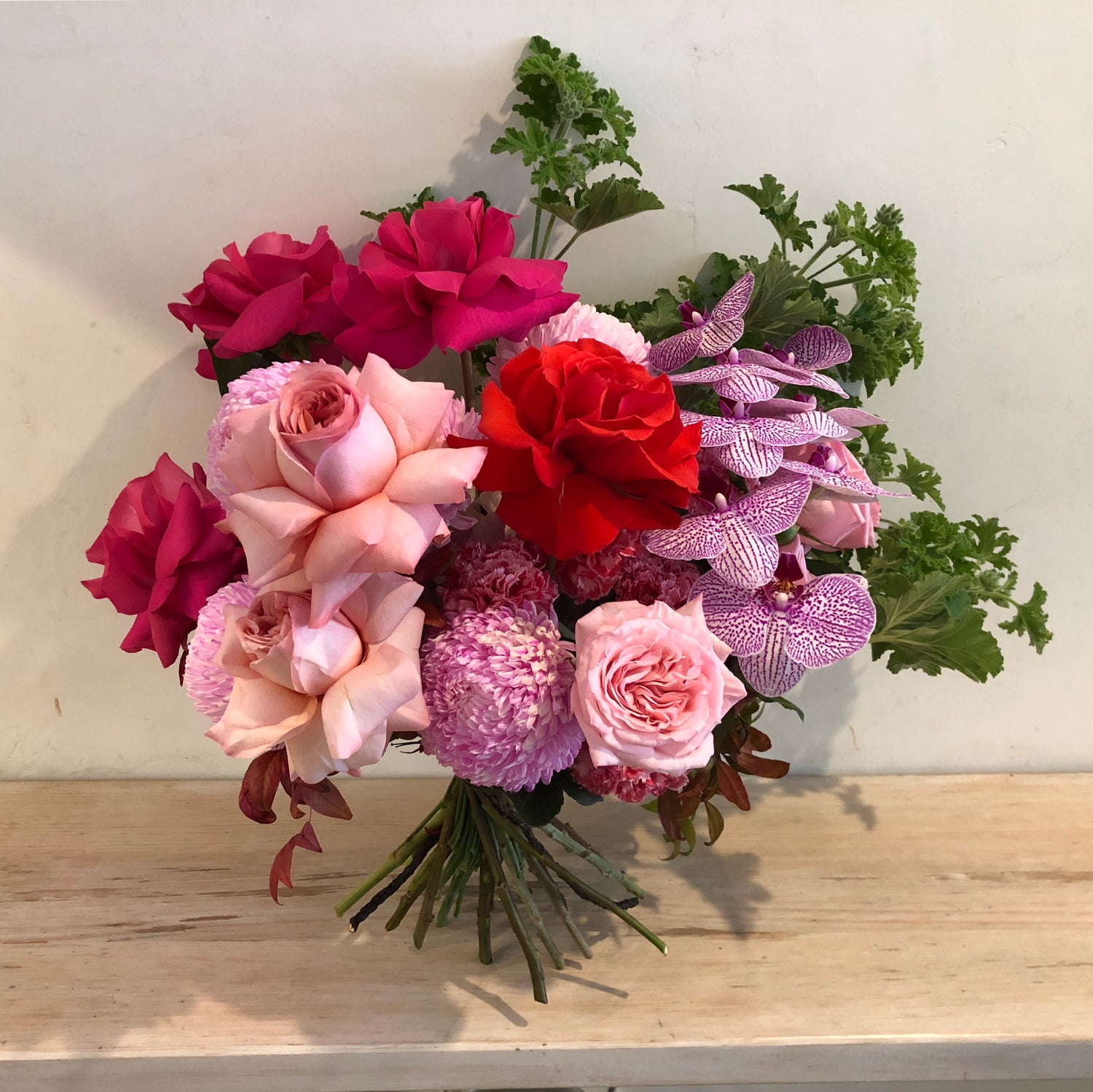 Wonderful blooms for wonderful birthdays
There's nothing quite like receiving a bouquet of fresh flowers on your birthday. So show your loved ones how much you care by sending them a beautiful arrangement from Polyanthi. Our flowers are hand-selected and expertly arranged, so you can be sure your loved ones will be impressed.
Whether you're looking for a beautiful bouquet of red roses, a festive arrangement of birthday lilies, or a playful bunch of daisies, we have the perfect flowers for you. And if you're not sure what to choose, our expert florists can help you select the perfect blooms for your loved ones.
So make someone's birthday extra special this year with flowers from Polyanthi. We offer same-day delivery in Sydney, so you can be sure your birthday flowers will arrive on time. Order today!
Which flowers are the best birthday flowers?
Birthdays are a special time to show your loved ones how much you care. And what better way to show affection than with a beautiful birthday bouquet of flowers? But with so many different types of flowers to choose from, it can be tough to decide which blooms are the best for birthdays. That's why we've put together a list of our top picks for the best birthday blooms from Polyanthi!
Hydrangea

Hydrangeas are beautiful blooms with large, lush petals that can come in a variety of colours and shapes. These gorgeous flowers are readily available from October through May and make a fantastic addition to any bouquet. They are perfect for summer birthdays as they bring a feeling of joy and sunshine wherever they go! 

Roses

Local roses grown in Sydney during the summer months (October-May) are a wonderfully romantic way to celebrate your loved one's birthday. These gorgeous blooms symbolise love, appreciation, and gratitude, making them the perfect way to show your loved one how much you care. Plus, with their wide range of colours, you're sure to find the perfect shade to match any personality.

Ecuadorian Roses

For those who don't mind splurging on something special, Ecuadorian roses are always a great choice. These roses are known for their long-lasting beauty and vibrant colours that will make anyone's day brighter. Plus, since these roses are imported from Ecuador, they're available all year round, regardless of season or climate changes. 

Phalaenopsis Orchid Stems

Phalaenopsis orchid stems make an excellent luxury gift for any special occasion, but especially birthdays! The delicate petals and soft colours will add an elegant touch to any bouquet or arrangement, and they last longer than most other types of flowers. Since Phalaenopsis orchids require very little maintenance, they're perfect for someone who wants something luxurious without having to worry about upkeep or care instructions. 

Dahlias

Dahlias offer fun colours and shapes, perfect for adding some pizzazz to any bouquet or arrangement! With its bright colours ranging from pinkish purple hues to deep reds, Dahlias create a stunning centrepiece that is sure to bring joy on someone's special day. These flowers are known for lasting quite a long time, so your recipient can continue enjoying them even after the party is over.

Tulips

Tulips may not be able to withstand hot temperatures like some other types of flowers but fear not – tulips are still an excellent choice for those celebrating birthdays when the weather cools down! These cooler climate blooms can be found from May through August, making them ideal if your recipient loves tulips but doesn't want them wilting away too quickly due to hot temperatures outside. 
Our process for arranging your perfect birthday flowers
Have a special request? No problem! Our florists are here to make sure that you get the perfect happy birthday flowers for your loved one. We take the time to listen to your requests and preferences so that we can create something special just for them.
Here's how our process works:
1. You pick the flowers
We provide a wide range of options for you to choose from so that you can find something perfect for your recipient.
2. We arrange your bespoke bouquet
Once you've chosen your flowers, our florists will use their expertise to put together a beautiful arrangement that will make your recipient smile.
3. We deliver
We offer same-day delivery for most cities in Sydney so that your recipient gets their bouquet as soon as possible!
4. Enjoy the moment
Watch as your recipient opens up their beautiful flowers and enjoys the joy on their face! We know that this moment will stay with you for a long time.
Ready to make someone's birthday extra special this year?
Sending flowers is the perfect way to show your loved ones how much you care. At Polyanthi, we offer a wide range of birthday flowers to choose from, so you're sure to find the perfect blooms for your special someone.
Contact us today to learn more about our birthday flowers and have us put together the perfect arrangement for your recipient! We look forward to making their day extra special.
Which suburbs in Sydney do we offer birthday flower delivery to?
We deliver to all suburbs and postcodes within NSW. Postcodes and costs are shown here. If you cannot see your desired area, please call us on 0431677355, so we can help you!